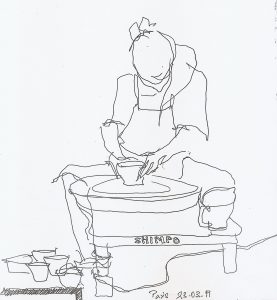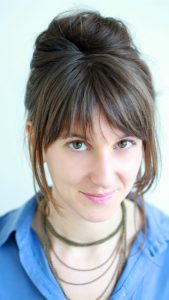 It would seem as though Alice Elleboode was born in a clay pot, or at least, that is what the benevolent ceramists at the Villa Corot in Paris like to say.  They have watched her grow and have trained her since she was five years old.
Ten years later, after training in modeling and patina techniques with the sculptor Dorothée Loriquet, it was time to explore the clay path set by ceramists for thousands of years and as soon as Alice finished high school, she left Paris to study at the School of Fine Arts and Ceramics in Midi-Pyrénées.
There she discovered the world of ideas, of concepts and of art history.
With her fellow students, she explored art in a general sense, through different techniques and methods: photography, video, collage, installation…
With her diploma in hand, she stopped in a village in Burgundy where ceramics are a way of life: St Amand-en-Puisaye.  There she became a true artisan, learning to deliver with precise gesture, a well-crafted order before the dead line.
Although the creative path led Alice to this rural world where introspection and personal research are a way of life, she had no intention of settling down.
Above all, ceramics are a bearer of culture and the history of the humanities.  Only by meeting ceramists from all corners of the world can one's scope be measured.  For this reason, Alice decided to seek out knowledge elsewhere.
Alice travels and discovers the exalted colors and geometry in traditional Mexican pottery, in the naïve clay figurines in Bahia or the Azuleros that crossed the Atlantic from Portugal to adorn the facades in Rio de Janeiro or Salvador de Bahia.
She visits the rudimentary studios in India where teacups are made in mass only to be destroyed after use, and more recently, she explores the sober lines and contemporary designs of skillful Danish artists like Hans Peter Hansen and his work with coiling.
Yet she never forgets France, where in each pottery village, ceramics are renewed over and over again.
Here, like elsewhere, knowledge is passed on and shared without reserve and Alice gleans experiences and never ceases to delve into this rich human heritage: The long hours of firing in Brigitte Penicaud's 9m3 anagama kiln, the exploration of shapes under Pierre Dutertre's benevolent eye, Christine Brückner's decoration techniques on bisque and Christa de Coppet's primitive firing.  Everything inspires Alice to explore further, to work harder in order to shape her universe.
Wanting to share with others, Alice now teaches in different studios in Paris.  But this does not keep her from continuing her own personal work.  On the contrary, she launched her own line in the spring of 2016:  Alice céramique.
Alice enjoys seeing how much her work has evolved, always driven by her curiosity and her desire to leave her print on ceramic arts.
Please use the form on the contact page for any questions.